Effortless, secure start-up and straight sailing with selective rotation.

Semi-Direct Air Intake System
A specially designed cowl and semi-direct air intake system were designed to provide cooler air to the tuned long-track intake manifold while a four valve per cylinder DOHC powerhead with Variable Valve Timing lets the engine breathe more efficiently increasing acceleration and top end speed. Added to that are a fuel injection system and Suzuki's Lean Burn Technology for improved fuel economy.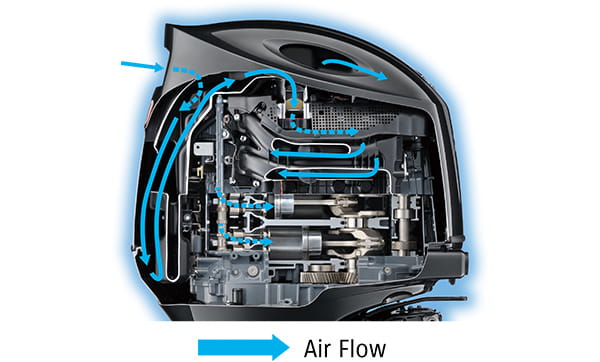 Big Block - High Performance Engine

With the DF200A, our goal was to build an outboard that provides all of the power and performance of a 147kW (200PS) class V6 outboard using a lighter, more compact four-cylinder configuration. To deliver that level of performance our engineers used an inline four-cylinder engine with a 2.9-liter "Big-Block" displacement and a higher 10.2:1 compression ratio to generate impressive acceleration and low-end torque.